ABOUT LACROSSE
Lacrosse is known as the oldest sport in North America with its roots from the Native American Indians, lacrosse has rapidly become the fastest growing sport in the United States. Traditionally popular in the Northeast, especially in Baltimore, Boston and New York, it is now gaining ground in California and the Northwest.
At the high school level, no other sport has grown faster over the last 10 years. The NCAA has more than 500 college club programs, including nearly 200 women's teams competing at the US Lacrosse Intercollegiate Association level. This year, ELC High School Boys Lacrosse is celebrating its 13th season.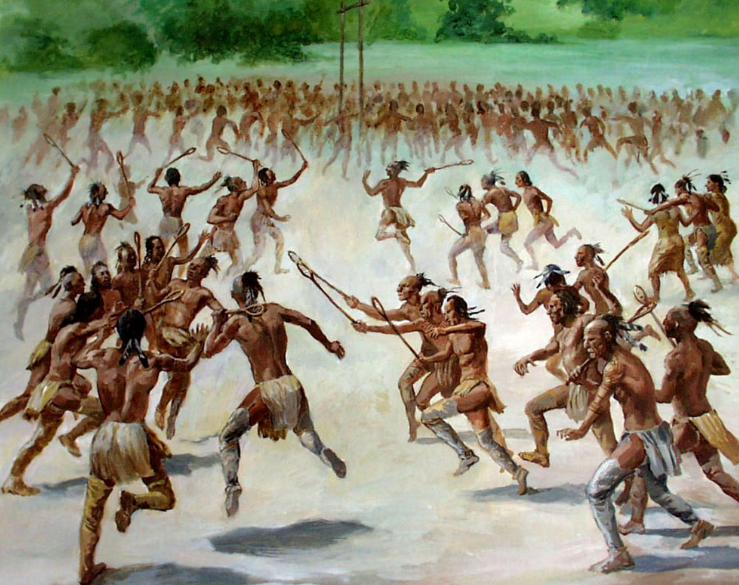 INTRODUCTION TO LACROSSE
Source: lax.com
If you are new to lacrosse, this is an overview that will assist you to better understand the game for both boys and girls. Lacrosse is a team game where a ball is passed and controlled using a stick with a mesh head (or pocket) at one end. If you have never seen lacrosse played, it is probably easiest to compare it to hockey or soccer. It is fast paced with a lot more scoring than those other "net goal" sports. The object is much the same, shoot the ball into the opponent's goal to score. The ball is made of rubber and is about the size of a tennis ball. The origins of the sport of lacrosse wins it some "cool points" for sure. Native Americans invented the game and used it as preparation for war as well as a means to solve conflicts.
Today, lacrosse is the fastest-growing youth, high school, and college team sport in the United States for both boys and girls. The combination of cool-looking gear, a fast-paced tempo and the physical nature of the game really does stand out as being a sport born from battle. Also known as "the fastest game on two feet," lacrosse seems to attract any kind of athlete, once they are exposed to it. The greatest thing about getting your child involved in lacrosse, is that they do not have to be physically dominating to excel. Many of the best players in the nation rely on speed, agility and determination, rather than brute strength or size.
When analyzing the "cool factor" of lacrosse across the country right now, it is impossible to ignore the fact that while it is the fastest-growing sport, it is not yet as popular as sports like football, baseball, and basketball. However, in many areas, it is getting close. Many athletes who play those sports add lacrosse to their schedule as a means to compete, stay in shape, and develop important motor skills such as hand-eye coordination.
Lacrosse has also become a major recruiting and college acceptance consideration at all levels of the game. As the sport of lacrosse grows, there will be more and more opportunities for athletes at all levels to enjoy the sport born centuries ago on the plains of North America from warriors and tribes. Other sports use terms like "going to battle" but lacrosse might be the only one born from actual tribal conflicts, making its origin story pretty hard to beat compared to other sports. Involving your son or daughter in any sport means evaluating the positives and negatives before signing them up. Lacrosse is a team sport requiring protective gear and game equipment in order to participate for both boys and girls.
THINGS TO CONSIDER
Lacrosse is a physical game. It requires near constant movement, which is fantastic for conditioning and overall fitness. Though youth lacrosse doesn't allow full body checking, there is still contact between players. The game uses a stick with a head on it that holds a ball. The ball can hurt. It is important to note the physical nature of the game because not all athletes and not all kids like contact sports. You and your child should talk openly about this, as it will be part of your decision to play.
Lacrosse requires coordination. Players use a stick with a head to catch and throw a rubber ball. The coordination required to run and handle using the stick, as well as being hit by the sticks of their opponents, means that most kids aren't fully prepared until at least third or fourth grade. That doesn't mean you can't start your child out earlier. Stick skills are so important, so if they begin really young their aptitude should exceed that of their peers who join later. Every child is different, and you know yours better than anyone, so evaluate their ability but also their willingness to practice and your willingness to help.
Lacrosse is a game of practice. As mentioned before, stick skills become a major asset or liability for players. Handling the stick while running and getting comfortable and adept at catching, passing and shooting the ball will require many hours of practice and drills outside of team play. Players can use a tennis ball against a wall to start, doing various drills to learn techniques for handling their stick, but they won't improve without committing to practicing a lot. Everyone develops at a different rate, but it is important to consider your child's ability to focus for long periods of time and whether they have the kind of personality that drives them to master something or become frustrated at the first signs of trouble. It takes persistence to excel at anything and lacrosse is certainly no exception.
Lacrosse is all about being part of a TEAM. One of the great things about the sport of lacrosse is, with the sport growing in popularity, there are more opportunities than ever to join a team so kids can start at any time that makes sense for them. While it can take some time to learn the fundamentals and begin to become adept with handling the tools of the sport, the game offers a chance for even the entry level player to compete and enjoy themselves. Getting your child involved should mostly come down to their enthusiasm about embracing a new sport and being part of a team. Lacrosse is not an individual sport. It will quickly teach your child to share, pass, and back up their fellow players.
DIFFERENCE BETWEEN BOYS AND GIRLS LACROSSE

How Women's Field Lacrosse Differs from Men's Field Lacrosse
Physical contact: The main difference between men's and women's lacrosse comes down to contact. In the men's game, body-checking is legal — and encouraged (especially by coaches) — while in the women's game, it is not. As a result, there is far less protective equipment in the women's game: Men wear helmets, mouth guards, gloves, shoulder pads, elbow pads, and often ribs pads, whereas women wear mouth guards and protective eyewear, but (with the exception of goalies) no helmets or padding.

Number of players: In the men's game, ten players are on the field — three attackmen, three midfielders, three defensemen, and a goaltender. In the women's game, there are 12 players on the field — offensive players (first home, second home, third home, and two attack wings) and defensive players (center, two defensive wings, point, cover point, third man, and goalie).

Sticks: Unlike men's lacrosse, mesh is not permitted for the pockets of women's sticks; the pockets must be strung in the traditional way. Also, the top of the ball must be above the sidewall when it's in the pocket. As a result, stick handling and shooting are more difficult cult in the women's game. In addition, the standard stick length in men's field lacrosse is 40 to 42 inches from the end of the head to the end of the handle; sticks for defensive players (as well as one midfielder) can measure 52 to 72 inches in length, and the goalie's stick can be 40 to 72 inches long. Women's lacrosse sticks must measure 35½ to 43¼ inches in length; the goalie's stick must measure 35½ to 48 inches in length.

Field size: In men's lacrosse, the field measures 110 yards long and 60 yards wide. In women's lacrosse, the field is a bit bigger: 120 yards long and 70 yards wide.
Credit: By James Hinkson and Joe Lombardi
Part of the Lacrosse For Dummies Cheat Sheet
CHECK OUT OUR BEGINNERS' GUIDES TO BOYS AND GIRLS LACROSSE
Introduction To Lacrosse (Boys)
Introduction To Lacrosse (Girls)
QUICK LINKS
Mom's Guide to Women's Lacrosse